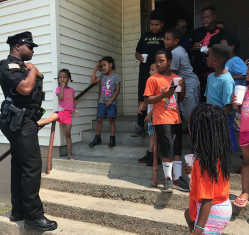 Summer Feeding Program announces locations, promotes literacy skills
RACHEL TOWNSEND
Tuesday, June 05, 2018
The Special Summer Food Service Program has now started and will continue through Friday, July 20, 2018. The purpose of the program is to ensure children who receive free or reduced meals during the school year, will continue to receive the same high quality meals during the summer months.
Last year the program served over 31,000 lunches and 8,000 breakfasts county-wide.
During this year's program Dyersburg City Parks and Recreation and the Dyer County YMCA will provide recreational programs at different sites, and have partnered with McIver's Grant Public Library to provide children with a summer literacy component, which will be implemented at all sites serving both breakfast and lunch.
Coordinators of the event say McIver's Grant has extended roughly 50 books to be read to children participating in the program throughout the summer.
"We wanted to provide children with a program allowing them to retain their literacy skills throughout the summer," stated coordinator Patricia Williams. "We are excited to have McIver's Grant come on board with this partnership, and look forward to providing these children with more than just a meal."
Williams says coordinators of this year's program set out to achieve three key goals:
• Providing children with physical activity
• Bridging the gap in educational disparities
• Providing children with a safe place to eat and enjoy physical activities
Dyer County YMCA Director Randy Butler says parents are welcome to drop off their kids at 9 a.m. at any of the breakfast/lunch sites, where they will remain for planned activities and meals until 1 p.m.
Special thanks are extended to community partners including, HOSTS volunteers, YUSA, McIver's Grant Public Library, Dyersburg Kiwanis Club, United Way and Tyson Foods.
Feeding times are as follows:
Breakfast starts at 9 a.m. until 10 a.m. Lunch Starts at noon and the program ends at 1 p.m.
Dyer County sites for breakfast and lunch:
These sites will serve breakfast, lunch and provide recreation: Bruce Recreation Center, New Womack Temple, Future City Recreation, Lively Stone Church Center, Newbern Monroe Center, and Newbern Housing and Word of Faith Baptist Church.
Dyersburg/Dyer County lunch only sites:
Tucker St. Apartment Park, Peachtree Apartment Park, Dyersburg South Town Park, YMCA, Green Tree Apartment, DSCC (Upward Bound program), Dyersburg Housing Authority (Maxey Drive and Perry Circle), Newbern City Park, Flower Valley, Newbern Elementary (through June).
Lake County sites (breakfast and lunch):
St John Church#3 Tiptonville
Laura Kendall School — breakfast and lunch
Jerry Reese Community Center Tiptonville — lunch only
Meals will be provided to all children ages 1-18 and is free of charge. All meals are the same for all children regardless of race, color, national origin, sex, age or disability, and there will be no discrimination in the course of the meal service.
Volunteers are needed for recreation and reading programs. If interested contact the Dyer County Extension Service at 731-286-7821.